Here for your Mobility - Laura's Story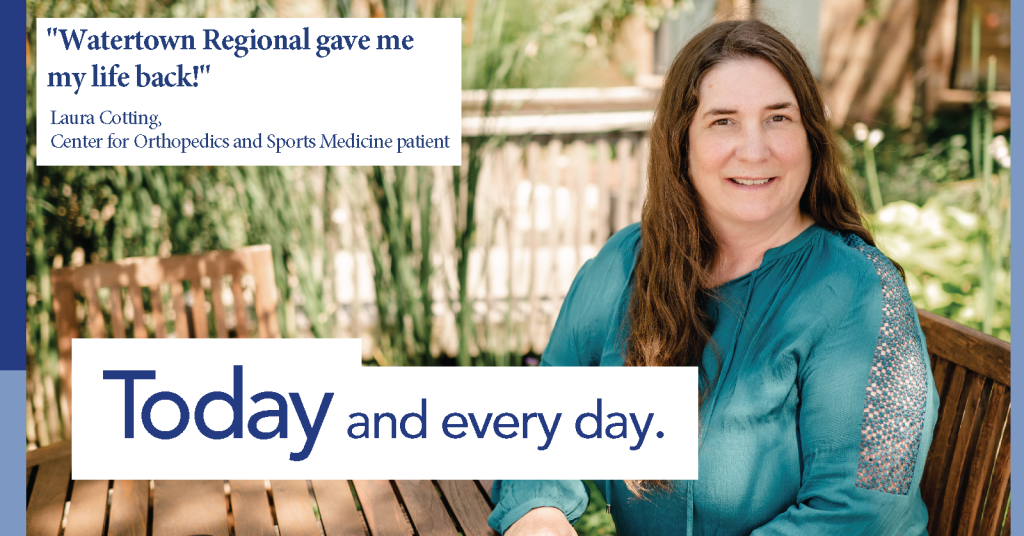 I spent many hours at Watertown Regional Medical Center throughout the last year. With two total knee replacements performed by Dr. Jason Habeck in January and March of 2021, a total shoulder replacement, performed by Dr. Mark Roman in November of 2021, and the subsequent rehabilitation appointments with Physical Therapist Peter Schuch, I got to know my doctors, nurses, and support staff well. The compassion and quality of care I received, from every person involved, was special.
I realize staff are compensated by their salaries, but everyone at Watertown Regional Medical Center gave me something extra. From the cheerful janitor who laughed at my jokes, to the upbeat kitchen staff (and their tasty food), to the smiling nurses and techs in the hospital. I believe they cared about me and have the same level of compassion for all their patients.
My joints started deteriorating over a period of about 20 years. The first symptom I noticed was difficulty getting up after being seated for several hours at an office job. I experienced a steady loss of flexibility and range of motion and a gradual increase in joint discomfort over that decade. About 10 years ago, I received arthroscopic surgery on each knee but was warned a total knee replacement was in my future. After several years of stability, I was starting to have difficulty doing everyday activities and could no longer go for even mild hikes or walks. While I was preoccupied with my knees, I ignored the deterioration of my left shoulder joint. However, I started to notice a loss of flexibility and range of motion after joining a gym about 12 years ago. I was given some home exercises to do, which helped for a while, but slowly I was able to do less and less and my range of motion rapidly decreased. Between my knees and my shoulder, the only thing I could do comfortably and safely was sitting in a recliner with my legs stretched out. That was no way to live, not for me, I knew something had to be done.
When choosing a hospital to go with, I used my health insurance website to find in-network providers within 200 miles of my home. I then did some internet research and read patient reviews across several sites to find the best. I was pleasantly surprised to discover that the Center for Orthopedics and Sports Medicine at Watertown Regional Medical Center, only a 25-minute drive, had a five-star rating on Google and was one of the best in the area. I scheduled my appointment right away.
When I first arrived at the Center for Orthopedics and Sports Medicine, I was terrified. I have not always had the best experience with medical professionals, and I was not sure what to expect. The first people I interacted with when I arrived were the receptionists. Their pleasant attitudes made me feel comfortable and supported. When it was time to meet Dr. Habeck, he made me feel safe. When I confessed my fears, he reassured me, when I double checked his facts, they were supported, and he always answered all my questions without getting impatient, defensive, or irritated. The first surgery he performed went well, his Physician Assistant, Liz Gilson, did a lovely job assisting by sewing up my incisions, helping me with my insurance company, and assisting in any way possible. Thanks to their teamwork and the physical therapy I received, my new joint worked beautifully. The fact that I returned to Dr. Habeck just a couple of months later to replace my other knee is the highest praise I can give.
Later in the year, when I was ready for my shoulder surgery, I knew just where to go. Since it was a new physician, the same feelings of nervousness came around as I waited to meet Dr. Roman, wondering if he would be as caring and compassionate as Dr. Habeck always was. I will always remember the first time we met. He framed himself in the doorway and said, "You POOR THING!" I was completely disarmed and felt comfortable the rest of my visit. The shoulder surgery, of course went well, and Physician Assistant Morgan Hennes did a great job sewing up my incision and reviewing my medications, even those unrelated to the surgery. Her suggestions improved my quality of life. On the day of the surgery, I even talked to one of the people on my surgery team about their experiences recovering from the exact same surgery I just underwent, it made me feel confident going into rehab once more.
As for my rehabilitation experience, I have nothing but great things to say about my physical therapist, Pete. Although he was randomly assigned to me at first, I made sure to request him after my next two surgeries. Since Pete helped me heal through all three joint replacements, I believe I am familiar with his skills and believe him to be an exemplary physical therapist. I am so grateful for everything he has done for me. Although every aspect of joint replacement surgery is equally important and challenging, the rehabilitation is in many ways the most challenging. The body will heal no matter what, but it needs support and guidance to heal correctly, and needs effort on the patient's part to heal optimally. Physical therapy is essential, and Pete helped me stay committed to my recovery and overcome my trust issues.
How did Pete earn and keep my trust? He is acutely observant of and responsive to subtle behavioral cues, confident in his skill set, has years of experience, is genuinely devoted to the healing arts, loves people, and is highly empathetic. He approaches his patients with humility, respect, and an open mind. Mostly, Pete has the rare and precious ability to truly love his patients like they are family.
Thanks to the care I received at Watertown Regional Medical Center, I have my life back! I can drive anywhere, walk and hike for miles, dress myself quickly and easily, cook, clean, and do yard work. If I am ever in need of another orthopedic procedure, I will not hesitate to call the Center for Orthopedics and Sports Medicine. If I need rehab, I will reach out to the Center for Orthopedics and Rehab first, and if I ever need of any other type of surgery, Watertown Regional Medical Center is the place I will go. I will continue to tell everyone about the compassionate, healing, and loving care I received from everyone involved. The people who helped me deserve all the praise they can get.
To learn more about the Center for Orthopedics and Sports Medicine, call 920.206.6500 or visit the link below. To find an orthopedic doctor that can help you get back to what you love doing, click on the 'Find a Doctor' link.
Read All Posts