Today's Healthcare Heroes | Holden Sjogren, PharmD, BCPS - Pharmacist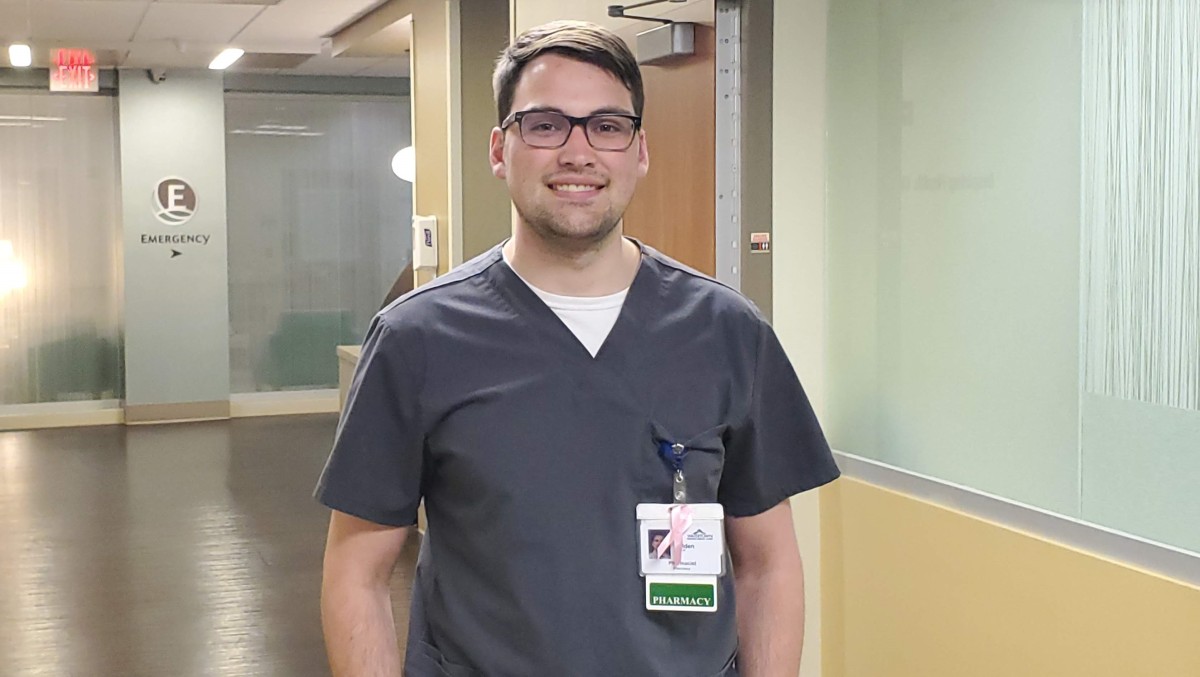 What is your position/department?
I work as a Clinical Staff Pharmacist at Watertown Regional Medical Center.
What does a typical day look like in your position?
A typical day for a pharmacist can vary greatly from day to day. When I am a pharmacist on the floor, a typical day consists of performing pharmacokinetic dosing on medications such as vancomycin and warfarin, monitoring lab values, and adjusting medications based on levels, verifying patient immunization status, changing medications from IV to oral, and working closely with other healthcare professionals to provide the best patient care.
A day in the central pharmacy at the hospital consists of performing medication histories, verifying medication orders, responding to medical emergencies, preparing and checking medications, answering any medication and pharmacy related questions via telephone, reviewing drug diversion reports, and many other tasks that keep the pharmacy running efficiently (although the pharmacy would not be running at all without our technicians)!
Additional daily jobs include managing Omnicell medication cabinets, ensuring medications are functional for barcode scanning, communicating with drug manufacturers and insurance companies to ensure patients get medications upon discharge, and counseling patients on medications.
How long have you been at Watertown Regional Medical Center? Have you always been in the same position?
I have a worked at Watertown Regional Medical Center for just over 14 months and have been a Clinical Staff Pharmacist for my entire tenure.

What was your inspiration for getting into healthcare?
My inspiration comes from my passion for math/science, helping people, and personal experiences throughout my life that pushed me into the direction of healthcare and specifically pharmacy.
What's new in your department? Are there any new technologies being utilized?
One big change in our department will be our new sterile compounding room where we make sterile products such as IV medications. Another project that was just finished is the implementation of continuous temperature monitors in all medications fridges at both the hospital and the clinics. Pharmacy and medicine is constantly changing so we have pharmacists dedicated to keeping up with the current literature and guidelines and introducing these new findings ot other healthcare professionals at our pharmacy and therapeutics committee meetings.

Why do you believe patients can Count on Watertown Regional Medical Center for safe and quality care?
I believe patients can count on Watertown Regional Medical Center because of the outstanding work done by all of our healthcare professionals. We display teamwork that only a community hospital can provide because our healthcare professionals are able to work closely with one another to provide optimal care for our patients.

What do you enjoy most about working at Watertown Regional Medical Center?
Quite simply, I enjoy the people I work with at Watertown Regional Medical Center. Whether it be my patients or coworkers, I always end leaving work with a feeling of personal satisfaction and excitement to come back the next day.

What are some of your interests outside of work? What is your favorite local gem in the Watertown area?
My interests include exploring the outdoors with my wife and watching sports (specifically South Dakota State University Jackrabbit athletics). My favorite local gem in Watertown is definitely PJ's pizza!
Read All Posts