Here for your Family - Amanda and Joel's Story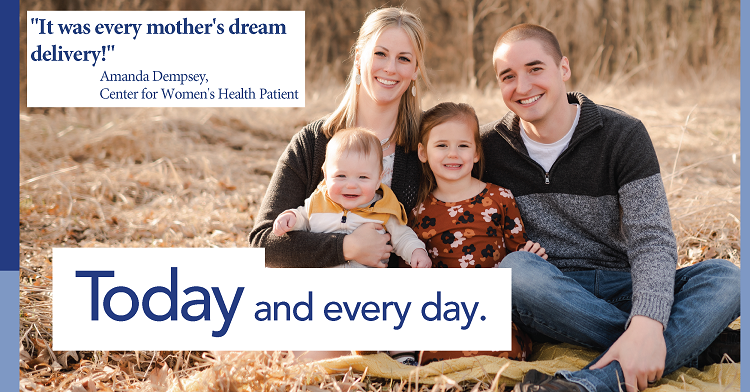 When my husband, Joel, and I moved to Johnson Creek from Milwaukee, it inspired us to expand our family beyond our first child, a daughter named Alana. In 2021, our son, Aiden, was born at Watertown Regional Medical Center and it was an amazing experience.
We weren't always sure that expanding our family was in the cards, especially after the birth of our daughter, at a large hospital outside of Milwaukee, resulted in a traumatic experience and postpartum depression.
Alana's birth didn't go as planned, she swallowed amniotic fluid and was taken away from me, almost immediately, and put into the NICU for 5 days. I had a fractured tailbone, lots of tearing, and an uncomfortable one-person hospital bed I shared with my husband. When it came to breastfeeding, I had to walk back and forth across the hospital to the NICU every two hours, and it still didn't work out because I had little instruction or support.
When we found out we were pregnant with Aiden, it didn't take long to start looking for a new OB/GYN for my prenatal and postnatal care and a new hospital to deliver at. As a Technical Writing Manager for a mortgage insurance company, I always do my research before making any big decision and went straight to Google to read reviews and figure out my options.
The Center for Women's Health at Watertown Regional Medical Center had over 150 reviews and scored a 4.7 out of 5. The reviews on their website, Google, and social media accounts were amazing. Since I liked what I saw online, I decided to call right away and book my first appointment.
For my prenatal appointments, I saw Dr. McMaster and Dr. Siddiqui, who were both great. When it came time for delivery, Dr. McMaster was able to guide Aiden out and coach me on how much to push so he didn't come out too fast. He came out smoothly and I was able to bond with him on my chest for a full two hours after the delivery. It was every mother's dream.
Obviously, some parts of giving birth come down to luck, but I attribute our smooth delivery to Dr. McMaster's skills and coaching. The fact that I was able to breastfeed successfully this time around came down to the nurses at Watertown Regional Medical Center who were very good at educating me on how to breastfeed and were supportive both emotionally and physically.
During my entire stay, all the nurses were sweet, helpful, and compassionate. The facility was clean and comfy, and don't even get me started on the food – it was some of the most delicious food I've ever had and was reminiscent of a 5-star restaurant. The steak dinner my husband and I received was phenomenal and it was great to spend that time bonding as a couple.
Anytime I talk to friends and family about Aiden's birth I mention the wonderful experience I had at Watertown Regional Medical Center and if someone I know is pregnant, I suggest the Center for Women's Health to them.
It was the best experience I could have asked for. The care and support I received from my doctors and nurses helped me to avoid the postpartum depression I suffered the first time around and my husband and I were treated like family. When it was time to be discharged home, it was almost hard to leave.
To learn more about the Center for Women's Health, call 920.262.4825 or visit the link below.
Read All Posts