Here for your Care - James' Story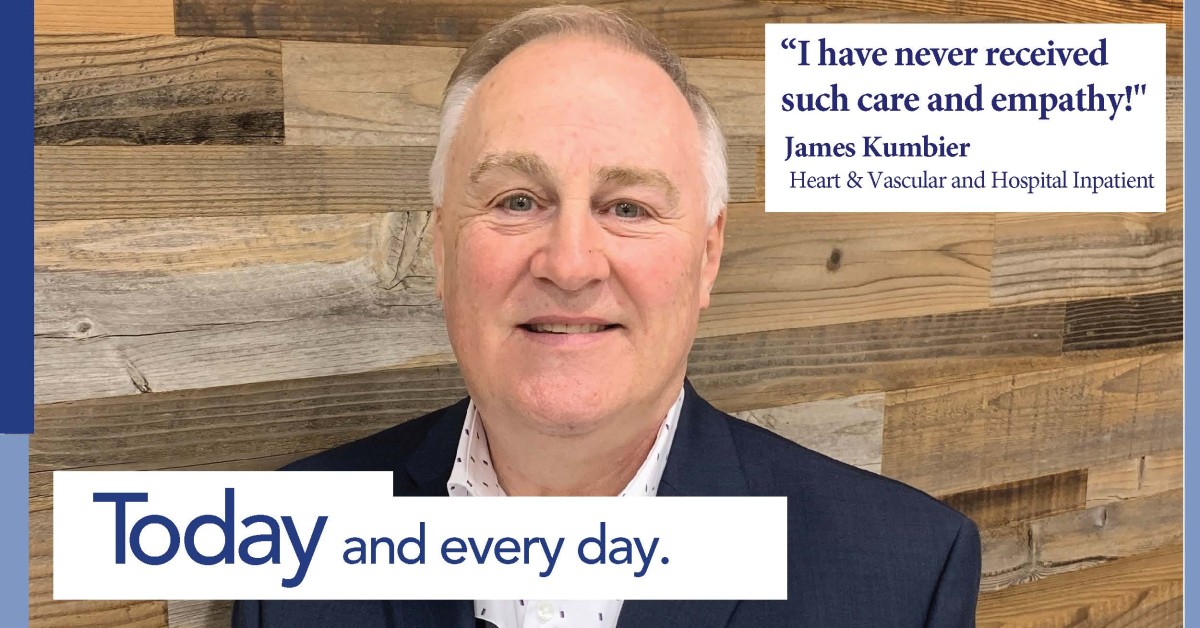 "Now I'm well on my way to feeling better than I have in years and am thankful to the entire team at Watertown Regional Medical Center."
James (Jim) has always been active and takes care of his health, but when he began feeling persistent chest pains he scheduled a check-up with his primary care physician. At first it appeared that Jim had gallstones and his doctor considered gall bladder surgery, but then recommended that Jim undergo cardiac imaging and a stress test at Watertown Regional Medical Center.
"I was able to set an appointment for the ultrasound, imaging and stress test right away," Jim shared. "I went in on a Monday morning feeling wonderful and the doctors and team explained to me how things were going to proceed. I underwent the imaging tests that were handled very professionally by the staff at the hospital, and then had the stress test - which I admit did leave me feeling a bit winded. When I was done, I had a meeting with Dr. Paul Volkert who is an interventional cardiologist, and because I was feeling fine, I was not prepared for the news I received. He confirmed that I had a condition called unstable angina and needed to have emergency catheterization. Dr. Volkert also let me know that I had probably been living with this condition for the past 10 years."
"From that point forward things moved pretty quickly. The operation was authorized, and the pre-op procedures went very smoothly thanks to the high level of professionalism from everyone on staff. Every person had a job to do, and they did it to perfection. I was given clear and concise information about everything that was taking place, and because I was awake and alert through the process, I appreciated the explanations and confirmations the medical team provided during the placement of the stent. Everything went exactly to the plan as Dr. Volkert had assured me, and I was amazed that something so intricate and complicated could be performed while I was awake!"
"I spent the night at Watertown Regional Medical Center under the care of Dr. Vik Goyal and his staff, and the aftercare I received was simply world-class as well. Something that my wife confirmed as she too was impressed by the excellent care I was provided and the fantastic communication the team shared. My nurse, Lisa, was especially outstanding, and I have never received such care and empathy from an individual as she respected my privacy and made me feel very comfortable. I was released to return home the next day after my admission and surgery and was happy to be back home so quickly. Now I'm well on my way to feeling better than I have in years and am thankful to the entire team at Watertown."
Visit our website for more information about heart care and and the hospitalist program at Watertown Regional Medical Center. To find a doctor, call 920.533.9762 or click on the link below.
Read All Posts