We're Here Because we Care: Andrea's Story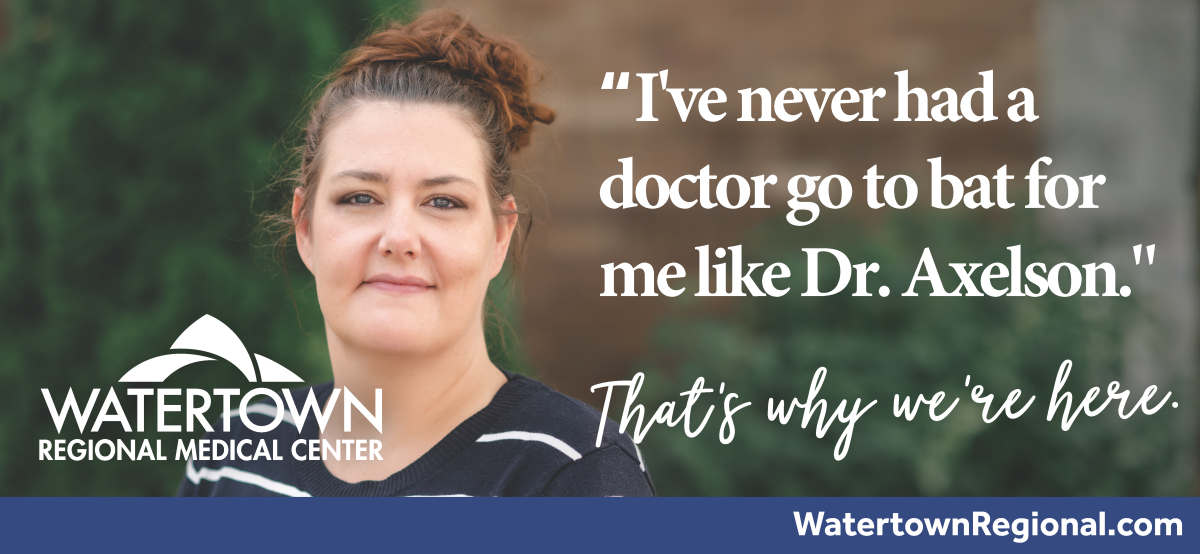 Andrea Norris is a nurse and mother of four who enjoys live music, reading, and spending time with her family. When she was scheduled to have surgery on a torn tendon in her ankle, she wasn't prepared for what lied ahead. The day before her scheduled surgery, routine lab work showed she was anemic and couldn't go through with the ankle surgery until her anemia was under control.
That's when she turned to the care of Dr. Kaci Axelson and the team at the Center for Women's Health (CWH).
"At first, I came to the Center for Women's Health because a friend referred me and I knew they had just hired young new providers who might be able to bring some new ideas. I continued going to CWH because Dr. Kaci Axelson made me feel extremely comfortable, starting at my first visit, and follow-up appointments felt like a visit with an old friend."
Andrea had been experiencing abnormal uterine bleeding since having her last child in 2008 but didn't realize how much it was affecting her quality of life. Having to delay her ankle surgery made her realize the importance of getting it under control.
"In the past, doctors just told me to 'take a pill' without looking for the root cause. Dr. Axelson was ready to go to bat for me. I'll never forget my first appointment with her. I had just learned I could have cancer earlier in the week and the Center for Women's Health got me in for a biopsy on the same day I called. It was a very scary time for me and even though I'm a nurse, I was intimidated by all the instruments on the counter. Dr. Axelson talked me through it and in a way I could easily understand."
The care she provided continued past that first appointment and lasted through all my appointments and the resulting procedure.
"Over the course of a month, I had lab work, an ultrasound, the biopsy, and after gathering all the information we needed, Dr. Axelson and I decided a hysterectomy was the best choice to get my bleeding under control. When I had questions regarding whether insurance would cover this surgery, Dr. Axelson said 'If they give us any grief, I will call them myself!' I've never had a doctor go to bat for me like that."
Andrea's hysterectomy was on October 25, and after the procedure was finished, she spent one night in the hospital, taking in the beautiful and serene women's health suites.
"The morning of the procedure, Dr. Axelson came and talked to me again, easing any anxieties I was having about surgery. After the procedure was finished, she came in and we talked about how it went. She said, 'I'm glad I could do this for you'. I became tearful, because I felt like she was truly glad, and it was the first time in my life I felt like I had a doctor who truly cared about me."
In addition to Dr. Axelson, Andrea had great experiences with all the staff at Watertown Regional Medical Center and has been feeling better than ever since her procedure.
"The staff was great! Everyone I encountered from dietary, to nursing was kind and caring. My pain was well controlled, and my needs were met. The nurses at night Kelly and Lynn, gave me a back rub and listened to all my silly stories. I really felt like I was just hanging out with my friends. Since my hysterectomy, my quality of life has improved 100%. I attribute this to the wonderful care of Dr. Axelson and the Center for Women's Health."
Read All Posts