Inpatient Center for Bone and Joint Health
Inpatient Center
The Inpatient Center for Bone & Joint Health serves patients who have knee or hip replacements, shoulder replacement surgery, spine surgery, foot and ankle surgery or those who have been injured and require surgery for a recent fall or accident.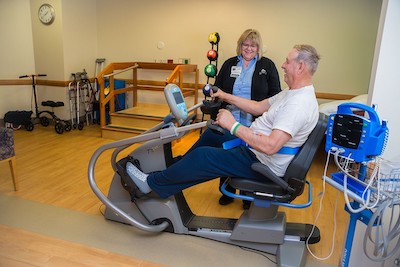 All rooms are private and include a rehab gym to allow the highly trained staff and experienced therapists to provide increased mobility and activities for patients.
This inpatient unit is staffed with specially trained and certified nurses that focus care specifically for orthopedic patients. Though the multiple bed, specialty unit is state-of-the-art, it goes far beyond the physical space of the unit.
The focus of our staff is on the patient experience and getting you back to your activities as quick as possible and pain free.
Additional Resources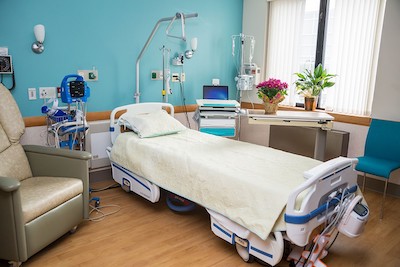 Enhanced Nurse Navigator Program guides you through the entire care process, being present and available to them before, during, and after your surgery.
An educational program is mandatory for all joint replacement patients and provides you with the knowledge of what to expect throughout your care process, and what can be done together as a care team to get you quickly back to your active lifestyles.
You are encouraged to follow a pre-surgical nutritional plan helping to prepare for surgery and after surgery you will be provided meals in conjunction with registered dietitians that promote healing.
Harvest Market will be provide with meals to-go upon discharge, so they can be worry free in their first night at home.