Watertown Regional Medical Center Celebrates 115 years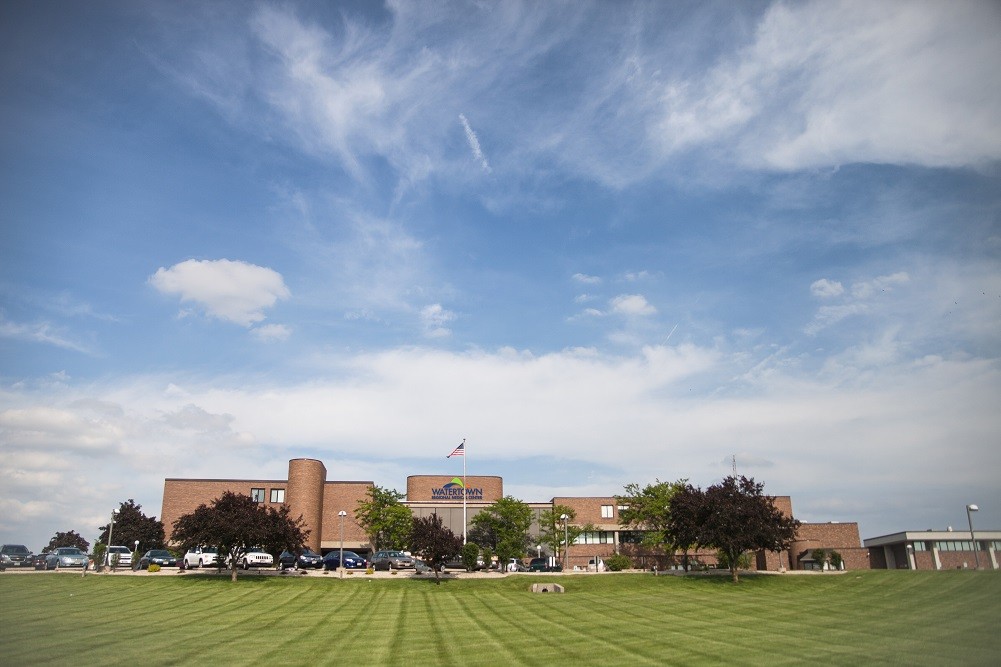 Watertown, Wisconsin – This month, Watertown Regional Medical Center is celebrating 115 years of providing quality care for the people of Watertown and the surrounding communities. Originally located on Main Street in the building formerly known as the Schiffler residence, the hospital, then called Watertown – St. Mary's, first opened its doors on October 1, 1906.

The hospital's popularity was evident from the start, filling to capacity on only its second day of operation. This popularity would continue and on January 5, 1914, a sisterhood took over control of the hospital from the physicians and decided to erect a new building adjacent from the original hospital. Building a hospital during a World War wasn't easy but the project was completed towards the end of 1918 and the new addition featured equipment that was said to be the best available at the time and second to none in the country.

"The hospital in Watertown has always been a place people can trust for quality care, top-notch equipment, and the latest technology," said Richard Keddington, CEO, Watertown Regional Medical Center. "We continue to build on that reputation today, recently being named a five-star CMS hospital and adding 24/7 heart attack services, and the daVinci robotic surgical system."

In 1960, the Watertown Hospital Association and the City of Watertown, took control of the facilities and changed the name to Watertown Memorial Hospital. After more than a decade of planning, a new, 120-bed, hospital was created at its current location in the northeast part of the city, just beyond the highway 16 by-pass.

After years of additions, including the most recent additions of Harvest Market and the state-of-the-art Emergency and OB Departments, Watertown Memorial Hospital joined forces with LifePoint Health in 2015 and became Watertown Regional Medical Center.

"Our relationship with LifePoint health remains central to our goal of 'Making Communities Healthier'," said Patricia Gedemer, Chief Nursing Officer at Watertown Regional Medical Center. "This has never been more evident than during the COVID-19 pandemic as we are able to share resources with other LifePoint hospitals and ensure the ability to provide quality care for our patients."

Watertown Regional Medical Center continues to focus on providing the community with a quality place to come for care. In 2020, WRMC added 28 employed and affiliated providers, made more than $1.4 million in capital improvements, distributed a payroll of over $48 million to more than 700 employees and donated more than $5 million in services to those in need.
"Our vision for the next 115 years is to continue providing quality care for our patients, expand our services by growing our system, and provide as many career and economic opportunities as possible," said Keddington.

Associates at Watertown Regional Medical Center will celebrate this occasion the week of Monday, October 25, with treats including doughnuts, root beer floats, and cookies, trivia games and prizes, and a relaxed wardrobe featuring five-star CMS t-shirts and Halloween colors. They want to thank the community for their continued support and look forward to providing quality care well into the future.

About Watertown Regional Medical Center
Watertown Regional Medical Center (WRMC) is a five-star CMS hospital that's been providing the residents of Dodge and Jefferson counties with excellent healthcare for over 100 years. By placing patients' needs first, WRMC's services have grown to include Emergency and Urgent Care, Primary Care, Women's Health, Orthopedics and Sports Medicine, Heart and Vascular, Neurology, Pulmonology, Ophthalmology, Mental Health and many other services. For more information and to see a complete list of the services offered, visit www.watertownregional.com.
Read All Posts