That's Why We're Here - Marie Jensen, Clinical Support Johnson Creek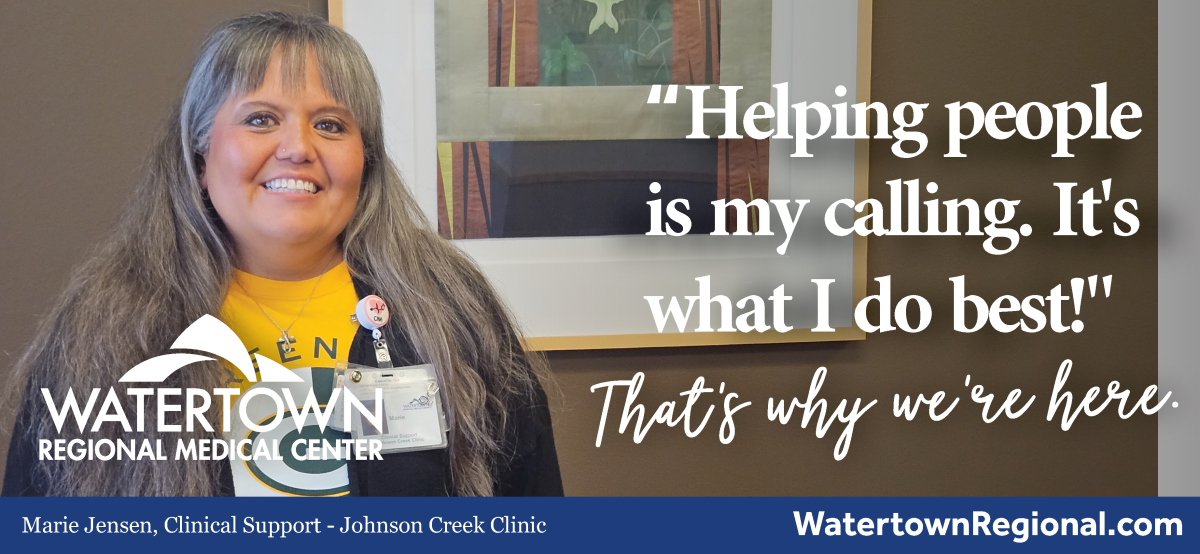 What is your role and department?
I work in Clinical Support (CS) at the Johnson Creek Clinic.
What does a typical day look like in your position?
Prepping for the day, seeing patients, calling patients, issuing vaccines, or completing lab draws. I am the only CS in Johnson Creek, so my days are busy and at times overwhelming, but when I hear patients say thank you for seeing me, you remember that is why we are here.
How long have you been at Watertown Regional Medical Center? Have you always been in the same position?
I have been here at Watertown Regional Medical Center for about a year and a half and remain in the same position from when I started.

Why did you choose your profession? Have you always wanted to do it?
I have been in the health care field for 24 years and have enjoyed every moment of it. Working from nursing homes, home health, travel agencies, to the Trauma Center at UW for the last 12 years. I really didn't know what I wanted to be when I grew up, but helping people is my calling and its what I do best.
How do you and your department help our patients get/stay healthier?
The clinic world is for sure different from inpatient, but being able to talk to the patient and give those recommendations and just see how they are doing and what it is that they would like from us and hoping that we are able to accommodate them is a great feeling. I enjoy getting to build those relationships.

What motivates you to come back to work every day?
The patients and co-workers that I get the opportunity to work with.

What's new in your department? Are there any new technologies being utilized?
No real technologies in the clinic, but we now have the OBGYNs coming to the Johnson Creek clinic. It's nice for our patients to be able to stay closer to home for their primary and women's health care.

If you weren't (CNA/CS), what would you want to do/be?
Every now and then I think about how maybe I should have been an RN, but really I am okay with being a CNA and CS as I have educated myself throughout my career and the knowledge I carry due to my experiences is really special to me.

What are some of your interests outside of work?
My family, but most of all my 14-year-old son who keeps me busy with his dreams of becoming a basketball star.
What is your favorite local gem in the Watertown area? (Example: Restaurant, park, activity)
I would have to say my favorite local gem is Maria's. The food is amazing!
Read All Posts