That's Why We're Here - Chelsea Murphy, Health Educator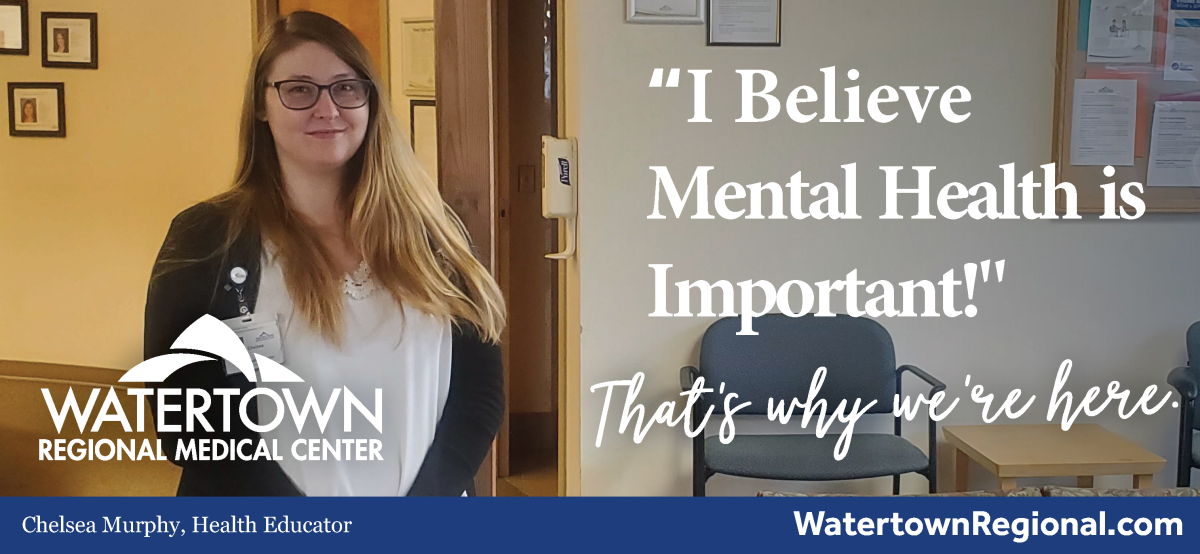 What is your role and department?
I am the Health Educator at the Doctor's Court clinic.
What does a typical day look like in your position?
I complete yearly mental health and addiction screenings for patients who are seen at our Doctor's Court primary care location. When patients screen positive, I create plans designed for each individual and refer them for further treatment if needed. In 2022, we were able to refer 160 individuals for further treatment and over 50% of those followed-up on for depression symptoms have seen improved scores.
How long have you been at Watertown Regional Medical Center? Have you always been in the same position?
I have been with Watertown Regional Medical Center 1.5 years and have been in the Health Educator role since being hired.
Why did you choose your profession? Have you always wanted to do it?
I believe that mental health is important and that people need someone to hear them and believe in them. I have always enjoyed helping others so when I heard about this position; I knew that I would be happy in this role.
How do you and your department help our patients get/stay healthier?
I work closely with patients to share local resources, help them set goals, and create follow-up plans to keep them on track.
What motivates you to come back to work every day?
I'm motivated by patient success stories. I get excited when my patients are successful in recovering from depression or overcoming addiction.
What's new in your department? Are there any new technologies being utilized?
We recently started screening each patient for anxiety in addition to depression an addiction. Screening for anxiety allows us to help more people who may have slipped through the cracks in the past. If you're worrying is affecting your work, relationships, or other important aspects of your life, we can get you connected with the help you need.
What are some of your interests outside of work?
When I'm not at work, I enjoy photography, art, and outdoor activities like hiking, kayaking, and camping.
What is your favorite local gem in the Watertown area? (Example: Restaurant, park, activity)
Kayaking down the Rock River.
Read All Posts