That's Why We're Here - Chaz Evans, Human Resources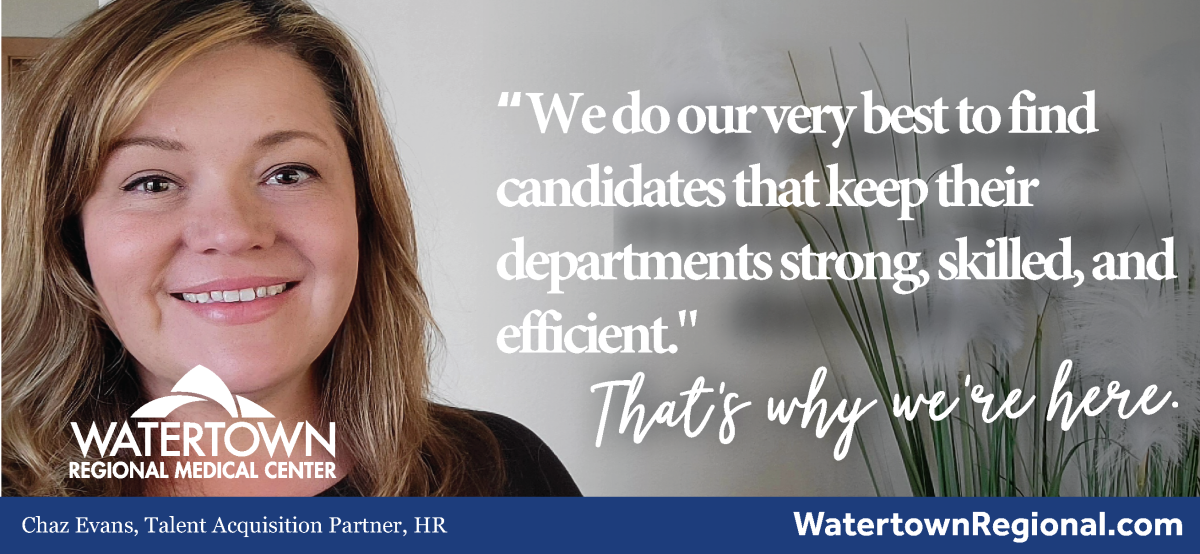 What is your role and department?
I am the Talent Acquisition Partner in Human Resources (HR) and recruiting at Watertown Regional Medical Center.
What does a typical day look like in your position?
I spend my days recruiting new candidates through hiring events, learning about our newest candidates and seeing where they fit, and working as a liaison between our applicants and hiring managers.
How long have you been at Watertown Regional Medical Center? Have you always been in the same position?
I have been working at Watertown Regional Medical Center since September of 2022 and I have felt right at home from day one!
Why did you choose your profession? Have you always wanted to do it?
I have been in involved in some aspect of recruiting and hiring for over 20 years. I enjoy meeting new people and being part of the excitement when we help someone find a great job fit and in turn bring a great candidate to our hospital! It's important to find the right people to keep up our stands in quality and safe care.
How do you and your department help our patients get/stay healthier?
By working closely with the hiring managers of each department and understanding their needs from a staffing standpoint. We do our very best to help them find the candidates they need to keep their departments strong, skilled, and efficient.

What motivates you to come back to work every day?
The kindness and culture of Watertown Regional Medical Center (patients and employees alike) is unmatched! The feedback I receive from candidates after they've met with our hiring managers for interviews and/or job shadowing is always a joy!
What's new in your department? Are there any new technologies being utilized?
We have a relatively new career page on our website, that can be accessed by visiting our website, clicking on the careers link at the top of the page, and clicking on the 'All Current Openings' button. Or you can access it here. On our careers page, people can search for our current openings, learn more about the positions, and apply for a job online.
What are some of your interests outside of work?
I enjoy exploring outdoors, visiting local markets and being on or by the water.
What is your favorite local gem in the Watertown area? (Example: Restaurant, park, activity)
I am always to excited to see what specials Harvest Market is serving up here at the hospital! They never disappoint and it's a great benefit for our employees to have delicious and healthy food available right on campus!
Read All Posts