Today's Healthcare Heroes | Rachel Sadoski, Patient Care Partner, CRC/Float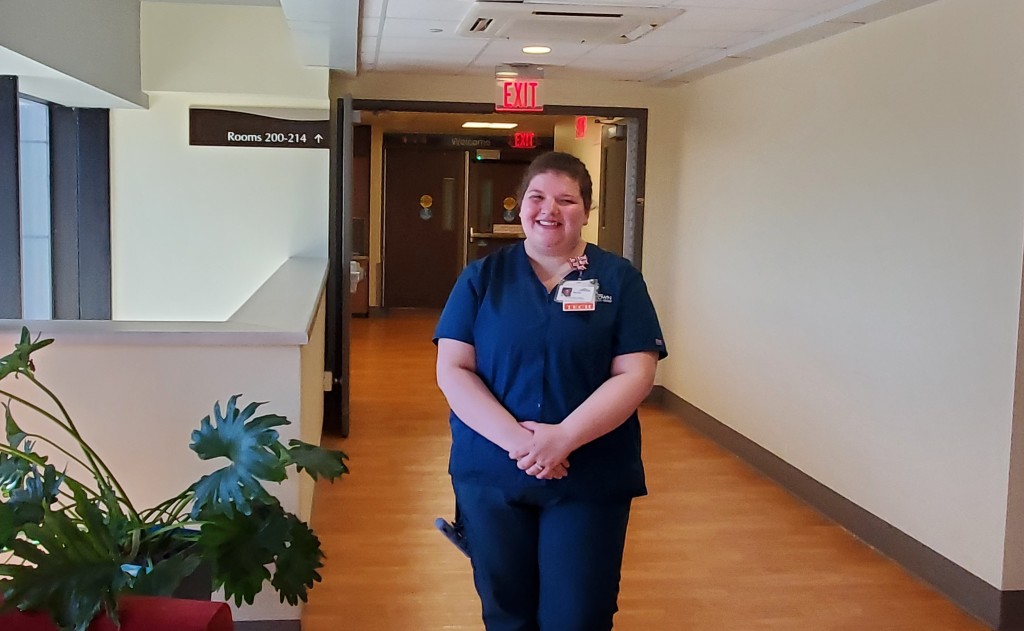 What is your position/department?
I am a Patient Care Partner in the Clinical Resource Center. I float to all of the departments, including IPC, ICU, Emergency, Urgent Care, and ambulatory. Very rare do I make it over to the Senior Behavioral Health Unit and Women's Health, unless they need extra help.

What does a typical day look like in your position?
Every day I come in and find out what department I will be in. On the floor I am getting people up and ready for the day, caring for all the needs that they might have, preparing them for any therapy they need to complete, and getting them ready to discharge if they will be leaving our care. This month I am helping to train a new employee.

How long have you been at Watertown Regional Medical Center? Have you always been in the same position?
I have been in health care for ten years, but this fall will be my 5 year anniversary with Watertown Regional Medical Center. I started on the night shift and within the first couple of months I was able to make the move to days.

What was your inspiration for getting into healthcare?
As a kid I was always caring to others. Then, when I was in grade school, my mom lost her job and decided to go back to school to be a nurse. She found a night job to work at while going to school during the day and she completed her homework with me and my brothers after dinner, at the kitchen table. I watched my mom work so hard for what she loved, and I knew one day I would also be in healthcare.
I wouldn't be here without my mom. We both cared for my grandma as she was on hospice I wouldn't have traded that time I got to spend with her for anything. I try to treat all my patients like how I would have wanted my grandma cared for.

What's new in your department? Are there any new technologies being utilized?
Besides having some great new employees, we just got a new telemetry system while I was on leave. Telemetry is used to monitor and track the activity of your heart during a hospital stay. The new touchscreen monitors are located at the nursing stations and are monitored 24/7.

Why do you believe patients can Count on Watertown Regional Medical Center for safe and quality care?
We have some of the best staff around! We all work as a team to help the patients, including the doctors, APP's, nurses, patient care partners (like myself), and additional support people (Respiratory Therapy, Occupational Therapy, Physical Therapy, dietary, EVS, and case managers).

What do you enjoy most about working at Watertown Regional Medical Center?
First and foremost, I love the people I work with. I also enjoy helping others and seeing them get better and on the road to recovery. It's a plus that I get to interact with so many people who come in, including patients, family members, and visitors.

What are some of your interests outside of work? What is your favorite local gem in the Watertown area? (Example: Restaurant, park, activity) Well for one I just For one, after three years of trying, my husband and I had our first child in January, a son named Beau. So right now, all of my free time is spent with them outside with our pups, hiking, hanging with family, and going to our cabin up north. As far as Watertown goes, I grew up in Watertown and it will always be home to me, even though I moved away. I love the farmers market, shopping on main, and getting food at Maria's.
Read All Posts