Healthcare Heroes | Bob Sippel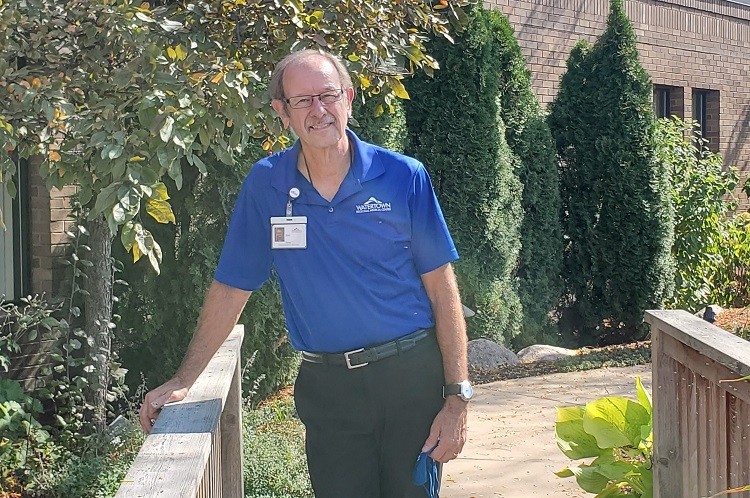 What is your official Title?
Currently, I am a Courier/Driver in Transportation Services. We travel to all of the off-campus facilities, the post-office (2x/day), and banks. We deliver supplies and pick-up lab specimens, laundry, and anything that needs to come back to the hospital.

How long have you been at Watertown Regional Medical Center? Have you always been in the same position?
I've been at Watertown Regional Medical Center for 20 years. When I started I was a lead in Environmental Services and I moved into Purchasing when someone else retired. Purchasing was what I had done for my career until starting here. While in purchasing I also helped manage the Transportation Services team.

What do you enjoy most about working at Watertown Regional Medical Center?
I continue to stay here, past the time I could retire, because I enjoy working with the people I work with, helping the people we help, and the job we get to do together.

What was your inspiration for getting into healthcare?
I worked in manufacturing prior to working at WRMC. Once I got here and started learning how healthcare worked, it was fulfilling because you know what you're doing is directly impacting peoples lives.

What would you say to somebody wanting to get into your profession?
Purchasing is behind the scenes but at the forefront of what is going on in many organizations. Most people don't realize what you're doing until you mess up but the rewards of coming up with cost savings for the organization and getting in product when it's hard to get is exciting.

Being a courier is a great part-time job that's five days a week. You're out on your own, but you get to interact with people in different clinics and other places you stop. Unless the weather is bad, it's a great job!

What do you enjoy doing when you're not at work?
My wife and I foster dogs, we work with a rescue in Hartland that brings dogs up from Alabama and we work with them until they are adopted. It's a lot of work but it's very rewarding when you get to see the dogs end up in great forever homes. I also enjoy doing woodworking.

What is your favorite place in the Watertown area?
I like to go for walks around town. We get around a lot, with all of the dog walking we do, so it's nice to see different parts of town and what's going on. It's especially fun to walk through Riverside Park and go downtown.

What does working for a CMS "Five-Star" Hospital mean to you?
It gives me a secure feeling knowing that I work for a first-class organization that knows what they want to do and how to get it done. It's also great knowing that we have the ability to shift to what the market is demanding at any given time, i.e. shifting Urgent Care staff to the Emergency Department. Whatever decisions we make, I know it's with the best interest of our patients in-mind.

Why do you believe patients can Count on Watertown Regional Medical Center for quality care?
The clinical people I've known throughout my 20 years care, they are dedicated, they know what they are doing and their focus is on patient well-being versus their own priorities. I trust them.
Read All Posts