Today's Healthcare Heroes | Gretchen Siemers, OB & GYN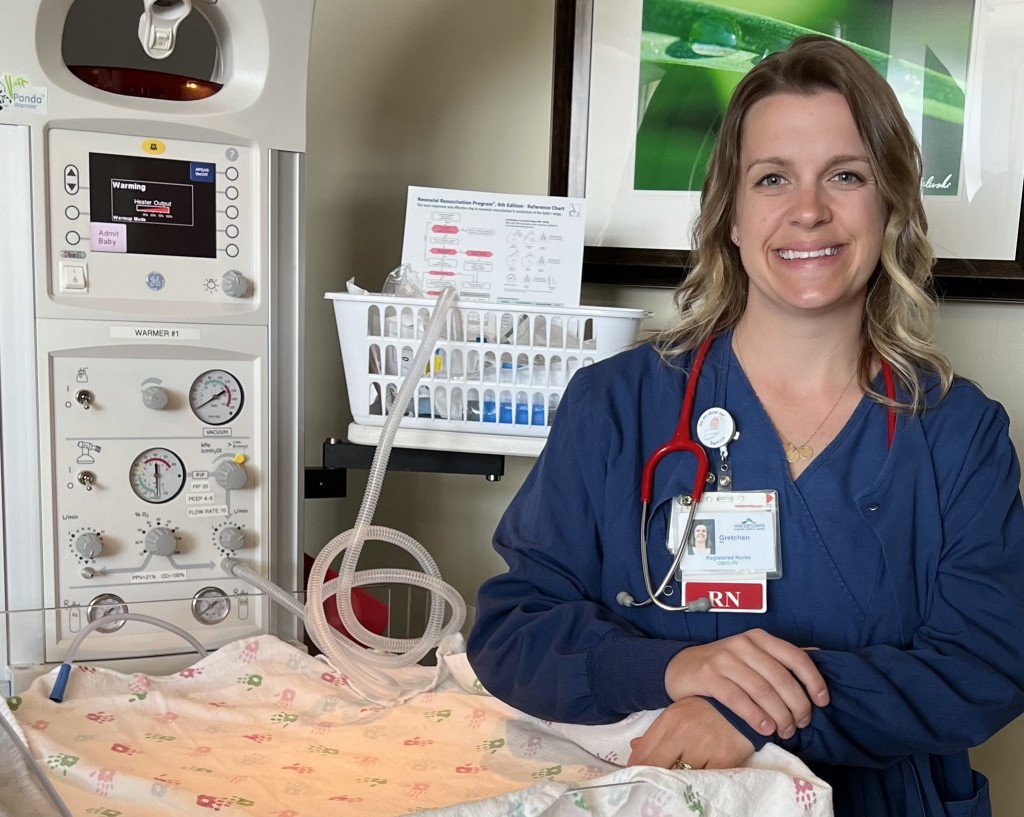 What is your position/department?
I am a Registered Nurse in the OB department and also a Certified Lactation Counselor.
What does a typical day look like in your position?
Every day on OB is different – but I usually find myself caring for mamas during the labor, delivery, and the postpartum period as well as help care for their newborns as they adjust to life outside the womb. I also help care for women before and after gynecological surgeries.
How long have you been at Watertown Regional Medical Center? Have you always been in the same position?
I started on the OB unit here at Watertown Regional Medical Center in March of 2020 - a pretty crazy time to begin a new job! Before that, I worked as a nurse at a hospital in Milwaukee for 9 years.
What was your inspiration for getting into healthcare?
I don't want to admit this, because she also works here and will probably read this, but my older sister, Jessie Nass. She became a nurse before I did and I was able to see what a positive impact I could make on people's lives as a nurse by observing her. It's been such a dream to be able to work alongside her at WRMC!
What's new in your department? Are there any new technologies being utilized?
SO MANY NEW THINGS! Within the last year, our physicians have started performing robotic-assisted surgeries, we are welcoming two new OBGYNs in September, and we just became a Baby Friendly Designated Hospital as well as becoming a Top Rated Maternity unit- something we are so proud of!
Why do you believe patients can Count on Watertown Regional Medical Center for safe and quality care?
I was so impressed when I came to WRMC back in 2020. The kind of care that we can provide here is unlike any other system I've been a part of. We are able to take the time to care for patients as individuals and treat them as we'd treat our own family members. I would bring any one of my family members and friends here and know that they'd be getting the best care possible.
What do you enjoy most about working at Watertown Regional Medical Center?
There are so many things that I love about working here – my coworkers are AMAZING. They are smart, funny, caring – just the best bunch of nurses – I get excited to come to work each day. My manager, Megan, is equally amazing and I definitely want to be her when I grow up. And, the MIRACLE of birth is not lost on me – it is one of my greatest privileges to be able to care for moms and babies during such a vulnerable time. I feel so blessed to get to do it.
What are some of your interests outside of work? What is your favorite local gem in the Watertown area?
When I'm not working, I spend my days with my husband and 3 kiddos – ages 8, 5, and 3 – so my current interests include learning cursive, learning to ride a bike without training wheels, and potty-training ;). Besides that, I enjoy running, checking out local breweries, and a good dateline episode. As far as my favorite local gems go, of course there's Mullens, Latte Donatte, Avas, etc….but some of my fondest memories are visiting my grandparents in Watertown as a child and feeding the ducks at Riverside Park!
Read All Posts