Today's Healthcare Heroes | Erin Thomsen, Primary Care RN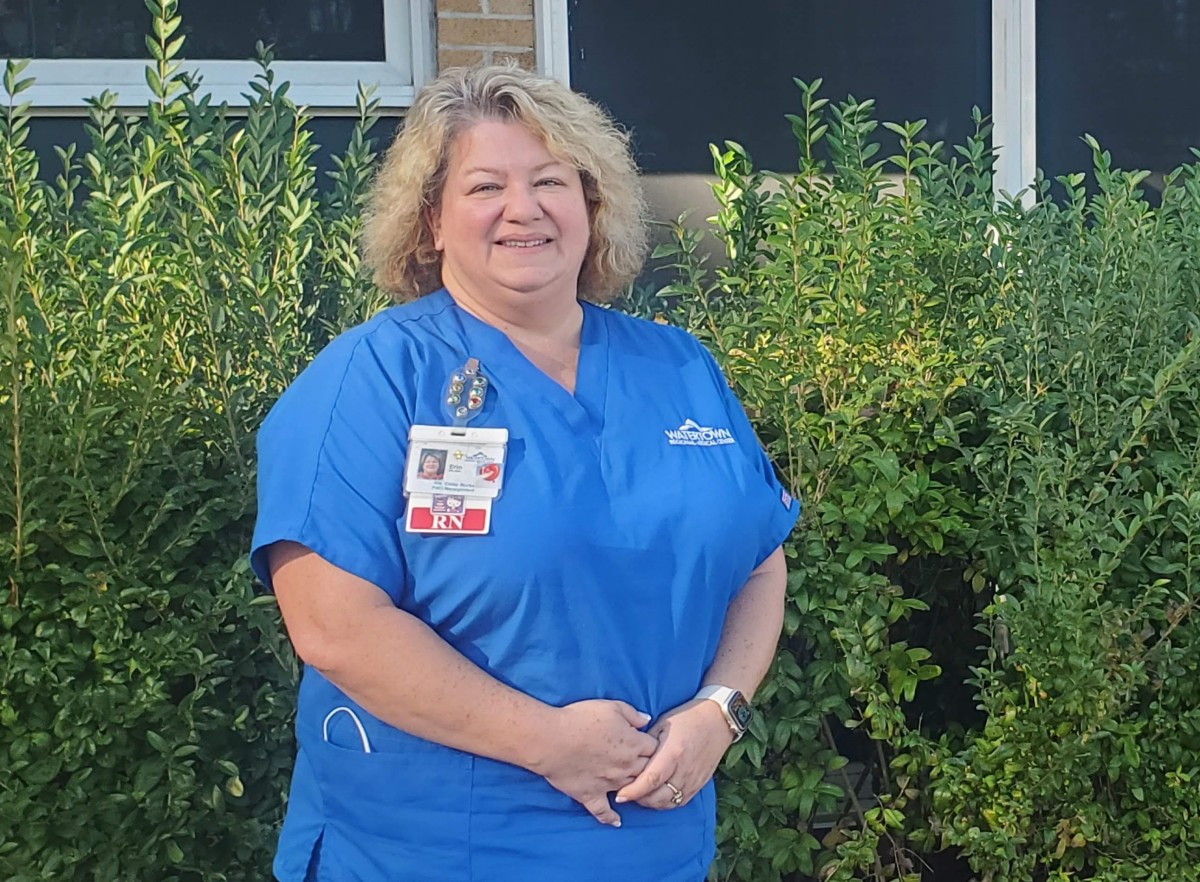 What is your position/department?
I am a primary care Triage RN and work at all Watertown Regional Medical Center primary care clinics.
What does a typical day look like in your position?
Working as a triage RN in primary care there really is no typical day. A lot of different things can come up throughout the day from trying to coordinate getting a patient in for an urgent Ultrasound/CT scan, to helping hold an infant for injections, to coordinating with a patient to receive a biweekly injection in his home (instead of trying to find transportation to a doctor's office every time). Our main constant is the telephone as we spend a lot of time on it being a go-between the patient and their physicians.

How long have you been at Watertown Regional Medical Center? Have you always been in the same position?
I just celebrated 25 years at Watertown Regional Medical Center. I started July of 1997 as an RN in the inpatient center and worked there for about 11-12 years, then I worked as a Clinical Analyst in our Information Systems department for 11 years, and have been in our primary care clinics in my current role as a Triage RN for the past 2 years.

What was your inspiration for getting into healthcare?
As a junior in high school I decided to take the CNA class that was being offered because I wanted to help people. I loved it and decided to go for my RN degree after high school.
What's new in your department? Are there any new technologies being utilized?
Remote Patient monitoring, this is a program that allows our primary care providers and cardiologists to monitor vital signs of our patients with high blood pressure and heart failure without leaving the comfort of their home.

Why do you believe patients can Count on Watertown Regional Medical Center for safe and quality care?
I believe they can count on Watertown Regional Medical Center because of our (the hospital and clinic staff) ability to work together with the common goal of making our patients healthier. We provide a quality of care you and your family can count on.

What do you enjoy most about working at Watertown Regional Medical Center?
I enjoy the camaraderie with my co-workers.

What are some of your interests outside of work? What is your favorite local gem in the Watertown area?
I enjoy spending time with my family and friends at our cabin up north going fishing, boating and swimming. My favorite gem in Watertown would be Riverside park. I enjoy playing volleyball there during the summer.
Read All Posts