Today's Healthcare Heroes | Andrea Norris, RN SBHU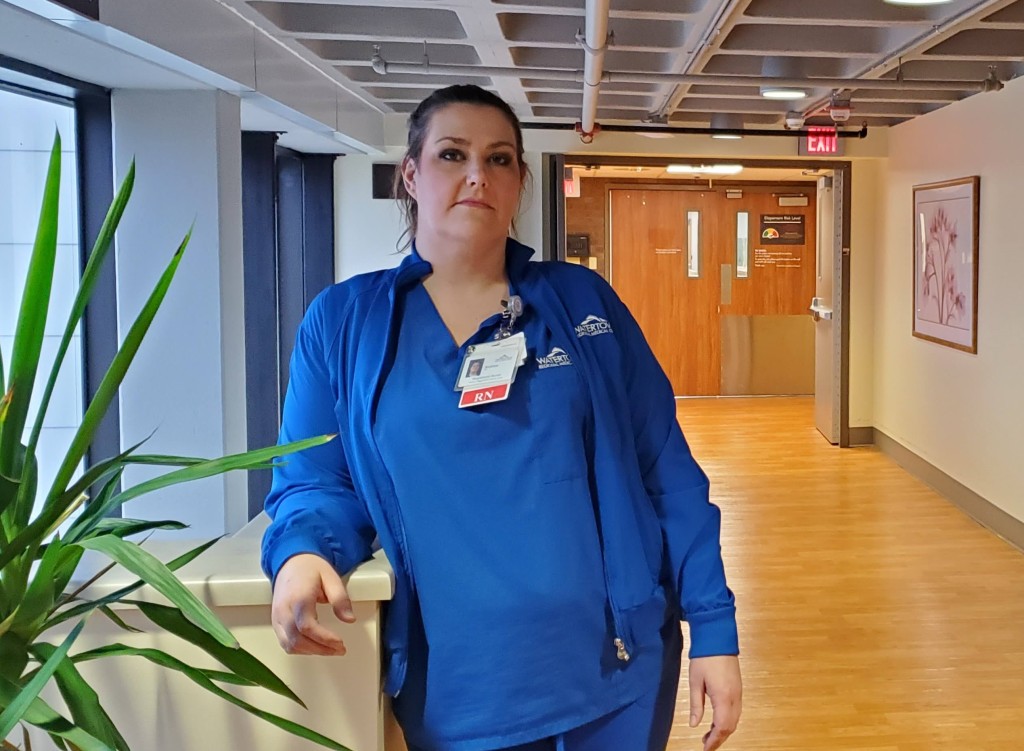 What is your position/department?
I work as an RN in the Senior Behavioral Health Unit (SBHU).
What does a typical day look like in your position?
Working on SBHU there really is no typical day. The patients are always full of surprises and like to keep us on our toes. The constants are always passing medications and assessments. A lot of things come up throughout the day such as deescalating an aggressive patient to providing support to patients that are depressed. I also work together closely with the rest of the SBHU team, so I could be helping with groups and activities or helping with basic nursing care. As charge nurse I also help with staffing and referrals.
How long have you been at Watertown Regional Medical Center? Have you always been in the same position?
My three year anniversary at Watertown Regional Medical Center will be in July. Other than floating over to the inpatient units during the height of COVID, I have always been in SBHU. That is where my passion is.
What was your inspiration for getting into healthcare?
When my children were little, I stayed at home. One Christmas, I got a part time job in apparel at Shopko, just to make sure my my children had a good Christmas. It made me feel good to help customers save money, or find clothes that they were looking for. I thought it would feel even better to really help people so I took a CNA course and I haven't looked back since.
What's new in your department? Are there any new technologies being utilized?
Our amazing recreational therapist is working hard on some new projects for our dementia patients. We are utilizing an old exam room for a sensory room, which includes a scrabble board, positive quotes, tic tac toe boards, a sensory rocking chair, sceneries and music. She is also working with a music memory program to help enhance their time in SBHU. In October, we got a new Director, Courtney, who has been amazing to work for.
As far as new technologies, we use a tele-psych service on the weekends and when Dr. Herald is off. We meet with the providers via Zoom and the providers are able to physically see the patients.

Why do you believe patients can Count on Watertown Regional Medical Center for safe and quality care?
I believe patients can count on WRMC because as a nurse I believe in and witness all the safety measures that the hospital implements to keep the patients and staff safe.
What do you enjoy most about working at Watertown Regional Medical Center?
I feel like I'm making a difference in my patient's lives. When I have a patient tell me that they haven't felt that great in years… or thank me for helping them feel better, there is truly no better feeling. Some of our patients discharge as a completely different person, and that makes it all worth it.
What are some of your interests outside of work? What is your favorite local gem in the Watertown area?
I keep pretty busy with my four children. They are 22, 17, 14, and 13. In my free time I enjoy going out with friends, music concerts and festivals, going to movies and out for dinner. I've been trying to get more active and am excited for warmer weather for some nice walks and bike riding. Sometimes through, it is nice just to relax and put on a good show at home, or read a book. I have 2 cats and a bunny named Arlo. One of my favorite places in Watertown is Two Sisters Cafe, they have great food and sometimes we order lunch from there at work.
Read All Posts