Today's Technology is at Watertown Regional Medical Center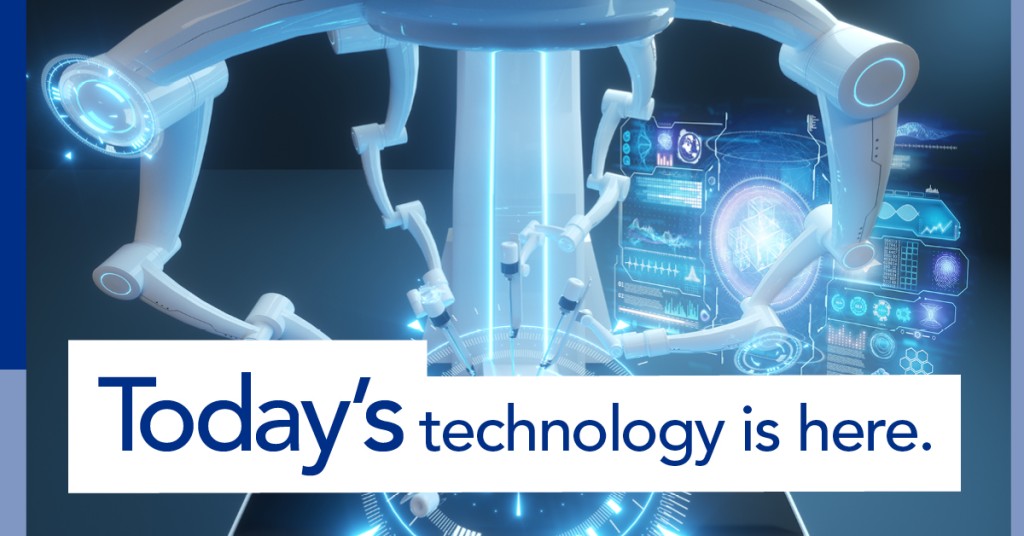 By: Richard Keddington, Chief Executive Officer
In healthcare today, technology is an essential component to quality outcomes and safe patient care. At Watertown Regional Medical Center, we're quick to adapt to these changing technologies, leading to better diagnosis, treatments, and ultimately, better outcomes for our patients.
But don't take my word for it. In 2021, Watertown Regional Medical Center was nationally recognized as a five-star hospital by the Centers for Medicare and Medicaid and in both periods measured by the Leapfrog Group, received an "A" grade for safe patient care. Furthering the notion that you don't need to travel far to receive quality and safe care, using the latest technology.
Continue reading to learn more about my favorite technologies located both at the hospital and in the clinics. You can skip directly to a category that fits you or read through them all to learn about what's available should you or your loved ones ever need it.
For Women's Health
Watertown Regional Medical Center offers quality women's health services through every stage of life. These services include annual wellness care, gynecology, obstetrical care, mammography, and more. The use of technology aids our OB/GYNs in providing this great care, both at the hospital and inside the Center for Women's Health campus.
The da Vinci X robotic surgical system is a high-tech tool designed to extend the capabilities of a surgeon's eyes and hands, all while maintaining complete control throughout the procedure. It is used to perform surgeries for women, including hysterectomies, while leaving less pain and scarring.
3D Mammography is the latest technology in the fight against breast cancer that allows doctors to examine breast tissue one layer at a time. It detects breast cancer earlier and up to 53% more often than traditional mammography.
New ultrasound machines located at the Center for Women's Health provide you and your doctor with valuable information during your pregnancy, including the ability to monitor your baby's growth and detect abnormalities early. By choosing the Center for Women's Health you'll also be able to establish a relationship with a maternal-fetal specialist who can help manage any health concerns detected by the ultrasounds.
For Hip, Knee & Orthopedic Patients
The Orthopedics and Sports Medicine team at Watertown Regional Medical Center is led by board-certified and fellowship trained surgeons. Their patient-centered approach utilizes the latest technology to alleviate your pain and return you back to the activities you enjoy.
JointPoint computer-assisted navigation helps to align a bone with a joint implant with unparalleled precision and accuracy. With the use of computer-assisted surgical navigation, like JointPoint, a new joint can now last far longer.
The Center for Orthopedics and Sports Medicine utilizes an in-house digital x-ray machine. This machine gives your orthopedic providers fast and clear access to information that can lead to faster diagnosis, and better outcomes.
Just recently, a new intraoperative C-arm machine was purchased for use during orthopedic procedures. This provides your orthopedic surgeon with real-time and high-resolution x-ray images so they can monitor the progress of the procedure and make decisions accordingly.
For Eye Care Patients
The Center for Eye Care provides routine and detailed eye exams, consultations, and laser and surgical treatments. It is home to innovative technology and an experienced and caring staff, ready to help you with your overall eye health.
In-house laser procedures are completed without having to leave the comfort of the Center for Eye Care. These laser procedures include retinal tears, diabetic retinopathy, glaucoma treatment, floaters treatment, and after cataract care.
Laser assist cataract surgery is done in the surgery center at Watertown Regional Medical Center and offers precise outcomes while utilizing less energy, which in turn helps healing.
For Heart Patients
Chest Pain accredited by the American College of Cardiology, Watertown Regional Medical Center offers comprehensive Heart and Vascular care focused on every step of the process, including diagnostic testing, treatment, monitoring, and education. As of May 2021, we now offer 24-7 heart attack (STEMI) care, keeping you closer to home during your procedure and recovery.
The Cath lab at Watertown Regional Medical Center gives cardiologists the ability to see what's going on inside the veins and arteries in real-time. Allowing them to provide life-saving heart attack care 24-7.
Cardiac Rehab is a medically supervised program that provides exercise, education, and support to those who have suffered from heart-related emergencies or are living with heart disease. Participants are hooked up to vital monitors to measure heart rate and oxygen to ensure even the most high-risk patients remain safe.
For Emergencies
The Emergency Department at Watertown Regional Medical Center is a level IV trauma facility and accredited chest pain center with state-of-the-art diagnostic and treatment equipment to meet your needs 24/7, 365 days/year.
Telestroke is an exceptional technology that allows UW Health stroke neurologists in Madison, to seamlessly consult with Watertown Regional Medical Center emergency physicians in diagnosing and treating suspected stroke patients. Watertown Regional Medical Center's Telestroke program is the first of its kind in Wisconsin and brings unparalleled expertise and a full range of stroke services to you and your loved ones.
For Everyone
Highly trained general surgeons offer an individualized approach in the management of complex surgical conditions, including of the breast, digestive tract, surgical oncology, and a variety of other procedures. They are leaders in the use of minimally invasive methods, including the da Vinci X robot, which is often used for quicker recovery after hernia repair.
Telehealth appointments at Watertown Regional Medical Center clinics are completed via the safe and secure Athena Health patient portal. Patients at our primary care, mental health, heart and vascular, neurology, pulmonology, and women's health clinics can request a telehealth visit and the provider will review the clinical need. Many appointments can be scheduled as telehealth visits.
The radiology department at Watertown Regional Medical Center offers CT and MRI scans. A CT scan can be used to visualize nearly all parts of the body and is used to diagnose disease or injury. An MRI uses a magnetic field and computer-generated radio waves to create detailed images of the organs and tissues in your body.
In addition to the technologies listed above, Watertown Regional Medical Center is in the process of installing a new telemetry system that will provide hospital-wide advanced cardiac monitoring and is establishing an EICU that will allow critically ill patients to stay closer to home while connecting virtually with experts in our community and around the region.
If you have any questions about the technology offered at Watertown Regional Medical Center, please talk with a provider or visit watertownregional.com for more information. To schedule an appointment with a provider, call the clinic directly or call 920.533.9762.
Read All Posts