Jennifer Lemke, Emergency Department Patient Care Partner at Watertown Regional Medical Center, Honored as Finalist for ScionHealth's Inaugural Monarch Caring and Community Award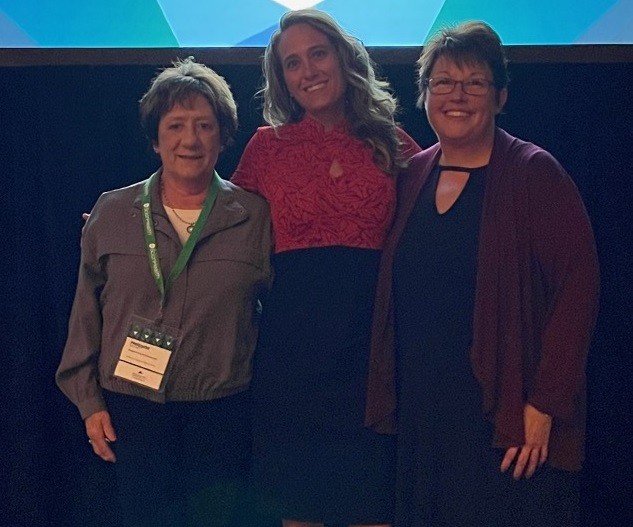 New annual award honors ScionHealth's most exceptional caregivers at its specialty hospitals and community hospitals across the country
WATERTOWN, WI – Jennifer Lemke, Emergency Department Patient Care Partner at Watertown Regional Medical Center (WRMC), was recently honored as one of the finalists for ScionHealth's Monarch Caring and Community Award, presented annually to the company's exceptional caregivers who consistently go above and beyond to deliver excellent patient care, elevate the patient experience and support their colleagues and communities.
She was one of only 79 award finalists within the health system that has approximately 22,000 total employees nationwide.
Lemke was elected by WRMC staff from among four nominees and represented the hospital at parent-company ScionHealth's Caregiver Summit, held Nov. 2 in Louisville, Kentucky. Each of ScionHealth's 79 hospitals were represented by one finalist, and from that group, two Monarch Award recipients were chosen, one from Texas representing the company's community hospitals and one from New Mexico representing its specialty hospitals.
"Jennifer is the perfect person to be nominated for the Monarch Award because she brings a positive attitude to work every day and is always looking for the good in people she works with and patients she has the opportunity to take care of," said Leanne Seifert, Jennifer's manager and the co-worker who nominated her for the award. "The energy and enthusiasm she has sticks with her through each and every shift, no matter what is going on around her. This helps her to show compassion to each patient, a concern for their welfare, and an extra motivation to find solutions to difficult challenges."
Lemke said she was honored to be nominated and even more so, to be voted as the hospital's finalist.
"Going to Kentucky for the Monarch Award nomination was truly humbling to me, and being nominated and then being the finalist for WRMC filled my heart with appreciation for all my colleagues I have the pleasure and honor to work with," she said. "Each and every one of my colleagues help me every day in striving to be the best caregiver for every patient we provide care for. I feel extremely blessed to work with an amazing team at WRMC."
Two of her team members and fellow award nominees ‒ Helayne Kirchoff, RN Case Manager, and Shelby Loomis, RN, Primary Care ‒ were also able to make the trip to Louisville, headquarters of ScionHealth. Kirchoff said they enjoyed the Caregiver Summit, the awards ceremony and the reception they received.
"I felt the whole experience was very positive, and [ScionHealth CEO] Rob Jay made us all feel very important to the success of our new company," said Kirchoff, who has been providing nursing care to the Watertown community since 1987. "He and the rest of the administrative team seemed very sincere and excited at all the things we can achieve together.
What was the biggest highlight for Kirchoff? Being greeted by the staff at the ScionHealth headquarters.
"I really enjoyed going to ScionHealth headquarters where they (literally) rolled out the red carpet for us. It was lined with lots of ScionHealth staff shaking clappers, holding signs and cheering us on as we walked in. Honestly, I don't think I have ever felt more appreciated in my 50-year nursing career. It brought tears to my eyes. The whole theme was employee- and caregiver-focused, and I left feeling excited to see what is in our future."
WRMC's other 2022 Monarch Award nominee, who was unable to attend the trip to Louisville, was Deanne Niay, RN, one of the hospital's house supervisors.
"We nominated four exceptional caregivers at WRMC and truly appreciate our parent company's commitment to recognize the best at what we do as a healthcare company, and that's providing the highest-quality, compassionate patient care," said Richard Keddington, WRMC's CEO. "Our four nominees and fellow team members strive to do just that and having this award and reading about the recipients certainly inspires us all to be our best for our patients and each other."
To learn more about ScionHealth's Monarch Caring and Community Award, visit scionhealth.com/employees/monarch-caring-and-community-award.
About Watertown Regional Medical Center
Watertown Regional Medical Center (WRMC) has been providing the residents of Dodge and Jefferson counties in southeast Wisconsin with excellent healthcare for over 115 years. By placing patients' needs first, services have grown to include Emergency, Primary Care, Women's Health, Orthopedics and Sports Medicine, Heart and Vascular, Neurology, Pulmonology, Ophthalmology, and many other services. Watertown Regional Medical Center is a joint venture between the Greater Watertown Community Health Foundation and ScionHealth. For more information and to see a complete list of the services offered, visit www.watertownregional.com.
About ScionHealth
ScionHealth strives to provide high-quality, patient-centered acute and post-acute hospital solutions. The health system is focused on driving innovation, serving its communities, and investing in people and technology to deliver compassionate patient care and excellent health outcomes. Based in Louisville, ScionHealth operates 79 hospital campuses in 25 states – 61 long-term acute care hospitals and 18 community hospital campuses and associated health systems. For more information, please visit www.scionhealth.com.
Read All Posts