Watertown Regional Medical Center Achieves Healthgrades' 2023 Best-in-Class Awards for Patient Experience and Patient Safety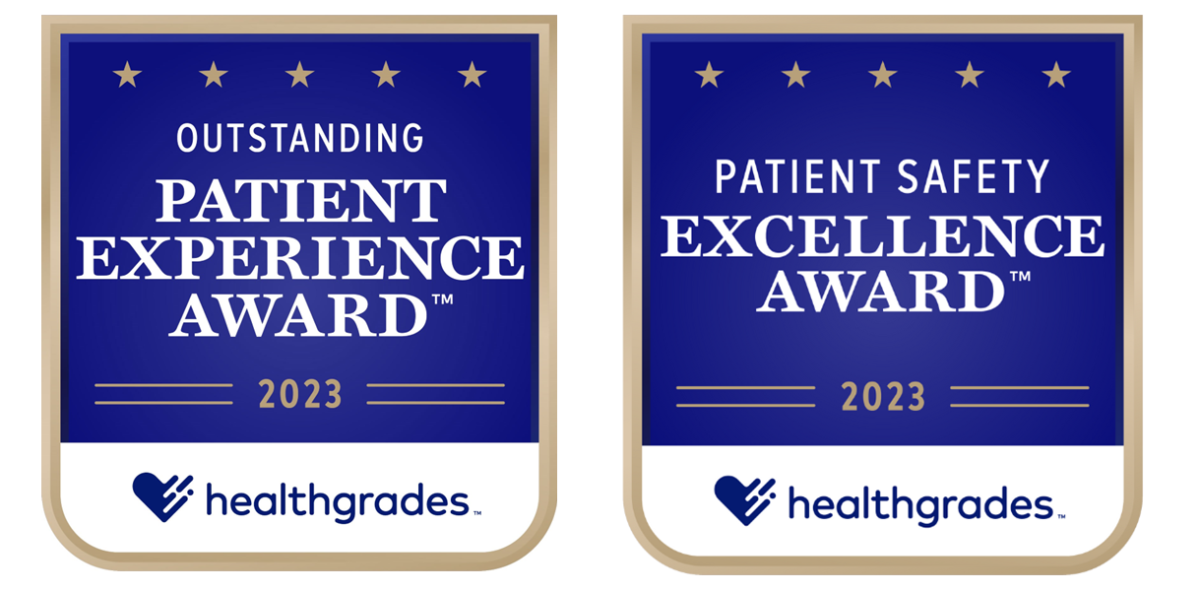 Only 83 hospitals nationwide ‒ or 2% of those eligible ‒ received both awards, the Healthgrades 2023 Patient Safety Excellence Award™ and 2023 the Outstanding Patient Experience Award™
WATERTOWN, Wisconsin (March 16, 2022) – Watertown Regional Medical Center today announced that it has been recognized by Healthgrades as a 2023 Patient Safety Excellence Award™ recipient and a 2023 Outstanding Patient Experience Award™ recipient. This distinction places Watertown Regional among the top 83 ‒ or top 2% ‒ of all short-term, acute-care hospitals as evaluated by Healthgrades, the leading marketplace connecting patients and providers.
"We strive to deliver high-quality outcomes and a safe and positive patient experience as part of our broader mission of promoting the health and well-being of our community," said Patty Gedemer, Chief Nursing Officer, Watertown Regional Medical Center. "To achieve both of these prestigious Healthgrades awards is quite an honor and a testament to the skilled, compassionate care extended to every patient who comes through our hospital doors."
The 2023 Patient Safety Excellence Award™, achieved by 10% of the approximately 4,500 eligible hospitals, recognizes facilities across the nation that are providing quality care while preventing serious safety events during hospital stays. The Outstanding Patient Experience Award™ celebrates the approximately 15% of eligible hospitals who are delivering the best patient experiences.
To be eligible for the patient safety award, hospitals must meet certain clinical quality thresholds, have zero instances in which a foreign object was left behind during a procedure, and have data on at least seven out of eight core Patient Safety Indicators (PSIs). Healthgrades' analysis revealed that patients treated at recipient hospitals such as Watertown Regional are less likely to experience the following safety events than patients treated at non-recipient hospitals:
In-hospital fall resulting in hip fracture (61.6% less likely)
Collapsed lung due to a procedure or surgery in or around the chest (52.7%)
Pressure sores or bed sores acquired in the hospital (66.1%)
Catheter-related bloodstream infections (67.3%)
For the annual patient experience analysis, Healthgrades evaluated Hospital Consumer Assessment of Healthcare Providers and Systems (HCAHPS) patient survey data against 10 patient experience benchmarks to identify the institutions such as Watertown Regional that display an unwavering commitment to prioritizing positive patient experience during a short-term, acute care visit.
Based on this analysis, Healthgrades identified three patient experience ratings that best predict whether a patient will recommend a hospital to friends and family:
Doctor communication
Nurse communication
Clear communication about care when discharged
"Consumers are investing more time in researching and selecting the most suitable hospital and physician for their unique care needs. This trend can be seen in the way that consumers are taking an active role in their own health care," said Brad Bowman, MD, Chief Medical Officer of Healthgrades. "Healthgrades' Patient Safety Excellence Award and Outstanding Patient Experience Award highlight the hospitals that are making patient safety and experience a priority, helping patients feel confident as they make more informed decisions about their healthcare."
The Healthgrades recognition continues Watertown Regional's recent string of honors that affirm the hospital's reputation as one of the best in the state and country. In February, Watertown was recognized by The Chartis Center for Rural Health as one of the 100 top-performing rural and community hospitals in the nation, and in June of 2022 it was named among the nation's top maternity hospitals by Newsweek magazine.
"We understand the privilege and responsibility of providing essential healthcare services to our friends, family and neighbors in Dodge and Jefferson counties, and believe the ability to deliver comfort and healing is reward in itself," said Gedemer. "That said, to see our work recognized as among the best is exciting and hopefully is a source of pride for all of Watertown."
Consumers can visit healthgrades.com for more information on how Healthgrades measures hospital quality and access the complete methodology here.
About Watertown Regional Medical Center
Watertown Regional Medical Center has been providing the residents of Dodge and Jefferson counties with excellent healthcare for over 100 years. With the combination of state-of-the-art facilities, world class technology and advanced clinical programming, Watertown Regional Medical Center is committed to keeping quality healthcare close to home, with a focus on maintaining and growing quality primary and specialty care services. The hospital's services have grown to include Emergency and Urgent Care, Primary Care, Women's Health, Orthopedics and Sports Medicine, Heart and Vascular, Neurology, Pulmonology, Ophthalmology, and many other services.
About Healthgrades
Healthgrades is dedicated to empowering stronger and more meaningful connections between patients and their healthcare providers. As the #1 platform for finding a doctor and a leader in healthcare transparency, we help millions of consumers each month find and schedule appointments with their healthcare professional of choice and prepare for their appointments with best-in-class, treatment-focused content. Our health system, large group practice, and life sciences marketing solutions have been helping our partners reach and engage consumers who are on their way to the doctor for over 20 years. Healthgrades is part of RVO Health, a partnership between Red Ventures and Optum, part of UnitedHealth Group. RVO Health has the largest consumer health and wellness audience online across its brand portfolio including Healthgrades, Healthline, Medical News Today, Greatist, Psych Central, Bezzy and Platejoy which touch every part of the health and wellness journey. Each month, RVO Health helps more than 100 million unique visitors live their strongest and healthiest lives.
Read All Posts