Healthcare Heroes | Laurie Kuntz, LPN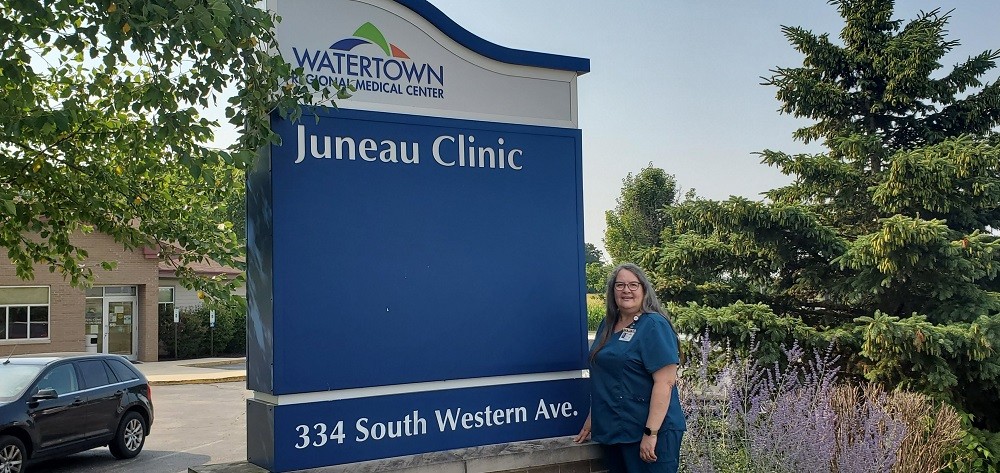 What is your official Title?
I am a Licensed Practical Nurse providing Clinical Support at Watertown Regional Medical Center's Juneau Clinic.
How long have you been at Watertown Regional Medical Center? Have you always been in the same position?
I have been within the Watertown Regional Medical Center system since 2002, starting with the Internal Medicine Clinic. In 2009 I moved to my current role in Juneau.
What do you enjoy most about working at Watertown Regional Medical Center?
I love the teamwork the staff has while taking care of patients. Going above and beyond is standard care for each patient and it allows us to create a sense of trust for our community.
What was your inspiration for getting into healthcare?
I have always wanted to help others. I also like that there is an opportunity to learn something new everyday.

What would you say to somebody wanting to get into your profession?
The healthcare field provides a great opportunity to help others while making your community healthier.

What do you enjoy doing when you're not at work?
I enjoy gardening, sewing and spending time with my family.

What is your favorite place in the Juneau area?
Juneau is a great small town where you can still let kids play outside and walk to school. The community parks are updated and scattered throughout the community, allowing kids to both have fun and safely get the exercise they need.

What does working for a CMS "Five-Star" hospital system mean to you?
I am very proud of this distinction for our hospital. It is the dedication of ALL our staff that made this possible.

Why do you believe patients can Count on Watertown Regional Medical Center for quality care?
I believe patients can Count on Watertown Regional Medical Center and specifically the Juneau clinic for quality care because of our ability to work together with one common goal in-mind, making our patients healthier. Having been in this health system for nearly 20 years, I have seen a lot of examples of this and trust the providers and staff to provide quality care.
Read All Posts